Source/ news.sky.com/story/a-quarter-still-in-debt-when-they-retire-says-prudential-report-10770797
A quarter still in debt when they retire, says Prudential report
A survey finds an increasing proportion of workers will still owe money when they finish work – eating into retirement incomes.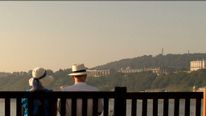 A quarter of people planning to retire this year will be in debt – owing an average £24,300 – according to research.
Credit card borrowing and, increasingly, mortgage repayments, were still hanging over people as they prepared to stop working, the report from Prudential found.
The poll, which questioned 1,000 people planning to retire in 2017, found 25% would be in debt, up from 20% in the same poll last year – and the highest level since the survey began in 2011.
The average sum they expected to owe was up from £18,800 a year ago, but still lower than the peak of £38,200 recorded in 2012.
Vince Smith-Hughes, a retirement income expert at Prudential, said: "For most people the move from work into retirement will see them having to cope with a drop in their income.
"So having to use precious retirement income to pay off debts could make life even more tricky for the newly retired.
"With this in mind, it is a worry that we've seen a big jump, not only in the proportion of retirees with outstanding debt but also the amount that they owe."
The poll found that of those expecting to retire with debts in 2017, it would take an average of nearly three and a half years to pay them off, with repayments costing an average of £230 a month.
However, 16% expected to take seven years or more and 7% feared they would never clear the money they owed.
The report said 38% of those retiring with debt still owed money on property, up on last year, while 51% were carrying credit card debt.